Sem ung kona féll ég fyrir franskri tungu. Ég hafði áður lært frönsku í menntaskóla en þar gekk ég að náminu með því hugarfari að gera því sem best skil á prófi. Þegar ég kom út í lífið fann ég að þetta stutta grundvallarnám yrði mér ekki til gagns nema ég bætti við það. Mér fannst ekki verjandi að kasta tveggja vetra námi á glæ svo ég lét innrita mig í Mími til að læra tungumál sem ég hafði í raun ekki haft neinn brennandi áhuga á. Eflaust var eitthvað sem togaði í mig, ég bara vissi ekki hvað. Ekki þá. Í Mími gat ég gefið mig á vald nautninni "að læra meira og meira" um töfrandi heim franskrar menningar án þess að próf biðu handan við hornið. En þótt ég hafi upplifað ástundun mína sem "leik" fremur en að ég sæi í henni hagnýtan tilgang, er mér það ljóst nú að djúplægur áhugi minn á franskri tungu og menningu glæddi með mér tilfinningu fyrir ljóðrænni fegurð og lagði grunninn að áhuga mínum á listum, bókmenntum og heimspeki. Þegar upp er staðið var námið í Mími mikilvægur þáttur í lífi mínu og hefur mér þó aldrei komið til hugar að setja það á ferilskrá, fyrr en nú. Löngu seinna settist ég á háskólabekk og lauk B.A.-prófi í frönsku og íslensku 1985. Ári síðar kom út hjá Iðunni þýðing mín á Elskhuganum (L'Amant) eftir Marguerite Duras.
Frönskunámið kveikti hjá mér löngun til að breiða út vængina og skoða heiminn. Flugfreyjustarf gerði drauminn um að heimsækja Frakkland að veruleika. Það bar mig líka til New York sem átti eftir að verða heimaborg mín í aldarfjórðung. Þar starfaði ég um árabil á ferðaskrifstofu Thomas Cook í höfuðstöðvum Sameinuðu þjóðanna. Auk lærdómsins sem fólst í að skipuleggja flókin ferðalög fyrir alþjóðlegt starfslið samtakanna, hlotnuðust mér ófá tækifæri til að heimsækja fjarlæga og framandi staði.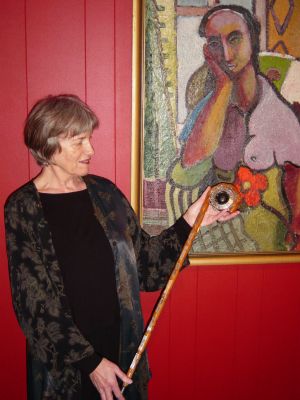 Með Ljóðstaf Jóns úr Vör 2012
Árið 1995 lauk ég M.A.-prófi í íslenskum bókmenntum frá Háskóla Íslands og kennslufræði til kennsluréttinda frá sama skóla 2002. Í M.A.-ritgerðinni minni, sem ég kallaði "Fjársjóðurinn í kviði hvaldrekans," rýndi ég í goðsögur og þjóðsögur í ljósi sálarfræði Carls Jung. Ég heillaðist bæði af Jung og viðfangsefninu og hef æ síðan verið upptekin af þessum arfi sem geymir innri sögu formæðra okkar og feðra. Þetta er hinn andlegi grundvöllur sem við stöndum á og ég tel að okkur sé nauðsynlegt að þekkja til að skilja hvers vegna við, sem einstaklingar og samfélag, erum stödd þar sem við erum í dag.
Að loknu prófi gerðist ég meðlimur í C.G. Jung Foundation í New York og hef sótt þar fjölda námskeiða og fyrirlestra í sálfræði, goðsögum, túlkun ævintýra og drauma, en draumar eru miðlægur þáttur í sálarfræði Jungs. Áhugi minn á draumum leiddi til þess að árið 2007 ákvað ég að verða mér úti um réttindi sem draumaþerapisti og útskrifaðist tveimur árum síðar frá Institude for Dream Studies (IDS) í Charleston í Suður-Karólínu. Í starfi mínu sem draumaþerapisti hef ég lagt áherslu á hópvinnu.
Árið 1996 lauk Diane vinkona mín upp fyrir mér dulúðugum heimi Tarot spila. Ég áttaði mig fljótt á að þessar erkitýpísku myndir og kerfið sem hefur þróast í kringum þær eru óviðjafnanlegur miðill til sjálfsskoðunar. Ég ákvað að kynna mér fræðin frekar og stundaði um árabil nám hjá Ruth Ann og Wald Amberstone sem reka The Tarot School í New York. Einnig hef ég gengið í smiðju Rachel Pollack sem hefur haft djúp og frelsandi áhrif á mig með frjóum skrifum sínum og hrífandi spilum, The Shining Tribe Tarot. Sjá t.d. The Birthing of my Manitokan. Tarot er í upphafi sínu spil, leikur. Í því liggja töfrarnir, því eins og Rachel minnir okkur á er einn af leyndardómum andlegrar leitar fólginn í að læra að leika sér af alvöru (The Forest of Souls: A Walk through the Tarot, xxxiii). Áhuga mínum á Tarot hef ég fundið farveg í hópvinnu og kennslu.
Í janúar 2012 var ljóðið mitt Triptych valið til vinnings í árlegri samkeppni um Ljóðstaf Jóns úr Vör. Sjá Ljóð. Upplifunin var magísk, ekki síst fyrir þá sök að þetta var í fyrsta sinn sem ég lét fara frá mér ljóð út í heim. Þessi viðurkenning varð mér hvatning til að treysta skáldinu í mér. Í mars 2016 kom út hjá Chiron Publications bók mín Quest for the Mead of Poetry: Menstrual Symbolism in Icelandic Folk and Fairy Tales. (Sjá Bækur /Books). Áður hafði ég skrifað um blæðingar, Menstruation, í The Book of Symbols: Reflections on Archetypal Images.
Ég bendi hér á nokkrar áhugaverðar slóðir sem tengjast hugðarefnum mínum og námi:
In my early adult years I was enamored of the French language and culture. Although at the time my passion felt like a mere interest that did not have any practical purpose, its long term impact is clear to me now. It was an enriching love affair that laid the foundation for my appreciation of poetic beauty, of art, literature and philosophy. I eventually took this interest to the university level and earned a B.A. in French and Icelandic from the University of Iceland in 1985. My translation of L'Amant (The Lover) by Marguerite Duras was published in 1986.
My studies in French inspired a longing in me to view the world. A short time job as a flight attendant with Icelandic Airlines granted me my first opportunity to visit France, the country of my dreams. It also exposed me to the magic of New York which eventually became my home for twenty five years. There I found a job with a Thomas Cook branch in the United Nations Secretariat which involved arranging travel for the organization's multinational staff. In addition to the many opportunities that came my way to visit exotic and faraway places, it was a job that greatly expanded my vision of the world.
In 1995 I graduated with an M.A. in Icelandic Literature from the University of Iceland and received a Teacher Certification from the same university in 2002. In my M.A.-thesis I explored Norse mythology and Icelandic folk and fairy tales from the Jungian perspective and I fell in love again, this time with Jungian psychology. Before, in my B.A.-thesis, I had delved into 'ghost stories in past and present' from a Freudian standpoint.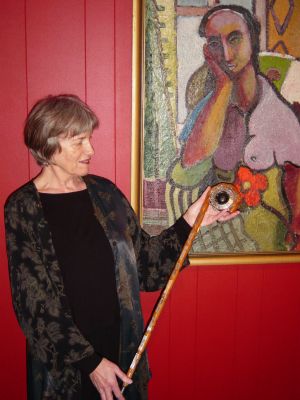 In 1995 I became a member of the C.G. Jung Foundation in New York and have attended a wide range of courses, lectures and workshops offered by the Foundation, in Jungian studies, myths, fairy tales, and dreams.
After moving back to Iceland in 2002, I stumbled on the long lost 'magic of menstruation' when writing about Freyja for The Archive for Research in Archetypal Symbolism (ARAS). It was a discovery that led to an entry on Menstruation in The Book of Symbols: Reflections on Archetypal Images. Empowered by this new vision, I set out to re-examine my mythological heritage. My book Quest for the Mead of Poetry: Menstrual Symbolism in Icelandic Folk and Fairy Tales, published by Chiron Publications in March 2016, is the product of that research. (See Bækur / Books). Leading up to the publication, I have given Presentations on the subject: at a conference titled "The Depths of Dreams," held by the International Association for the Study of Dreams in Virginia Beach; at a conference titled "Fragile Subjects," held by the University of Turku, Finland; at a "Snakes, Dragons, and Other Scaly Creatures"-conference held at Jung Center in New York.
In 2007 I decided to take my interest in dreams to a professional level and entered a two year training program with Justina Lasley at the Institute for Dream Studies (IDS) in Charleston, South Carolina. I graduated as a certified dream therapist in March 2009. My work in this field has been primarily with groups.
In the late nineties my friend Diane introduced me to Tarot and I fell instantly for the beauty and magic of the medium. I have since studied the Tarot with Ruth Ann and Wald Amberstone at the Tarot School of New York and have attended a few of their annual Readers Studios which offer a variety of lectures and study groups and, last but not least, a lot of fun. I have also had the opportunity to study with Rachel Pollack, whose Shining Tribe Tarot and prolific writing on Tarot have been a great inspiration for me. See The Birthing of my Manitokan. My passion for Tarot has found an outlet in group work and teaching.
In January of 2012 my poem Triptych won an award in a yearly competition commemorating the pioneering Icelandic poet Jón úr Vör (1917-2000). In addition to a generous prize, I was endowed with the honor of having my name engraved on a silver plate on the poet's walking stick, along with the names of previous winners. This felt like a coming home of sorts after a long journey.
Links that I would like to share
Below are a few websites associated with my studies and interests: